Katie Standring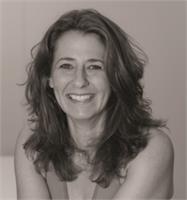 Studio owner Katie has been teaching Bikram Yoga since 2005, the longest serving teacher at the studio.
In a previous life Katie spend 20 years working as a Sales and Marketing professional in London.
When she first came to Bikram Yoga the hardest challenge was to simply lay still! Despite feeling uncomfortable both physically and mentally during her first few classes something kept her going back for more. She soon started to feel more connected with her true self and her life purpose. Losing weight and becoming more flexible was a welcomed extra! After just one year of regular bikram practice she knew she wanted to teach!
Katie has been fortunate enough to have taught in some of the biggest studios in London, California and Sydney.
In 2007 Katie met Martin. Together they shared a dream to create a Bikram Yoga Studio which was full of love and to inspire people to improve their health and happiness. In 2012 Bikram Yoga Northern Beaches was opened.
Katie loves 'holding space' for deep healing and transformation. In addition to teaching Bikram yoga, managing the studio (with Martin) Katie teaches Yin Yoga and runs Yoga Retreats in Bali.
"Whatever your age, injury or prior yoga experience (if any at all), this yoga will benefit your mind and body in ways you never imagined possible". Katie
Known for her compassion and gentle teaching style, she also has has a no-nonsense approach to life and believes that anything is possible with passion, clear intention and love.
Katie has an amazing ability to connect with students whilst encouraging them to keep on sweating and smiling!
Katie Standring instructs the following:
Yin yoga class is a family class kids (6 & over) welcome! this is a restorative yoga class that will nurture your body and mind in ways you never imagined possible! practiced at room temperature, yin yoga will challenge you in a completely different way to bikram and inferno!

poses are held 3-5 minutes, to give plenty of time to melt through the surface layers of resistance into a naturally relaxed and peaceful state of stillness within. great for inflexible people and busy minds! finding stillness by holding the postures for longer.




Get ready for a hot new HIIT regime, invented by former world-class athlete Gabi Walters, and imported from the USA! Inferno Pilates is a challenging, full body, low impact, High Intensity Interval Training (HIIT) class using Pilate's principles.

Prepare to get leaner, stronger and fitter, all without any stress on joints that a high impact workout can create. The 1-hour core-sculpting class, led by instructor and experienced Instructors is held at a sweat-enhancing 37 degrees and designed for ALL fitness levels. Burn up to 500 calories in one session!




Bikram Yoga is the Hottest yoga in town! But more specifically, it's a therapeutic hatha yoga sequence of 26 postures and 2 breathing exercises conducted in a heated studio, and suitable for all levels including beginners.

Bikram Yoga classes are 90 minutes. Please arrive at least 15 minutes prior to class time for check-in.

The health benefits include:
• Improve overall health and fitness
• Reduce stress
• Assist in losing weight and maintaining ideal weight
• Strengthen and tone the body
• Improve flexibility