Gay Raubal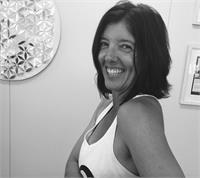 Gay has been practicing Bikram Yoga since 2013. A regular practitioner of Iyenga, Ashtanga and other Hatha yoga's' for 8 years, Gay was no stranger to yoga - or so she thought! "I remember in my first Bikram class trying every trick in the book to cope; I felt like I'd been hit by a truck, I'd never experienced anything like it". However after about two months of practice, she realised something amazing was happening, her energy levels were higher she had no more pain from arthritis and she had new found flexibility & true concentration never before gained from her past yoga experiences. Gay found such a passion for Bikram Yoga that she has completed several personal challenges including doubles challenges -'two classes a day, every day for a month'. What was amazing to Gay during the challenges was that Bikram yoga created so much energy that on some days she even did three classes a day. In 2017 the studio owners discovered another incredible discipline -' Inferno Hot Pilates'. Gay jumped at the chance to try it and she was hooked, she immediately became an Inferno Hot Pilates teacher. "Inferno is an incredibly beneficial practice in its own right, but it's also the perfect complement to Bikram Yoga; practicing both really does build strength to create flexibility. Gay's classes are strong, motivating and fun. " I'm incredibly excited about the combined health benefits of Bikram Yoga and Inferno Hot Pilates and I truly believe that everyone who practices Bikram and Inferno will feel better than they've ever felt in their life".
Gay Raubal instructs the following:
Get ready for a hot new HIIT regime, invented by former world-class athlete Gabi Walters, and imported from the USA! Inferno Pilates is a challenging, full body, low impact, High Intensity Interval Training (HIIT) class using Pilate's principles.

Prepare to get leaner, stronger and fitter, all without any stress on joints that a high impact workout can create. The 1-hour core-sculpting class, led by instructor and experienced Instructors is held at a sweat-enhancing 37 degrees and designed for ALL fitness levels. Burn up to 500 calories in one session!