I have suffered with neck and lower back pain, carpel tunnel and numbness and tingling down the right hand side of my body for the past 4-5 years. I've always loved high impact exercise and rushed through stretching. I've tried physio, chiro and steroid injections in the spine and neck. And have a constant supply of painkillers on hand.
After just one Bikram's class I slept a whole night without waking up in pain, and after two classes I could sit at my desk all day without having to constantly shake out my right arm and leg to get blood flowing into them.
I have done six classes in the past nine days and haven't had to take one pain killer. I am very happy as I thought I'd worn my body out so much that I wouldn't be able to exercise again. Bikram's is very challenging, but so worth it.
- Sharon Jorden
I have been doing Bikram yoga for 14 years and it has taken me on an unspeakable journey of discovery. About life and in particular, about myself. Of course it's given me fitness, weight loss, detox, endurance, stamina but it's the mind & heart, which has benefited the most. It's like brushing your teeth, I need it everyday. It makes me feel incredible.
It's the gift I give myself everyday and I could never imagine my life without Bikram Yoga!!
- Kristy Siqueira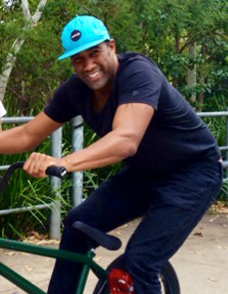 I started Bikram yoga 4 years ago. I' am not a flexible person so it's been a great journey for me. Physically I have improved my balance, core strength and my surfing! And I have recently avoided a lower back disk surgery with the help of Yoga inside and outside the hot room. Mentally it keeps me relaxed, focused and simply a happier person. I grew up in a tropical environment so I love being in the hot room! The real change for me came after completing a 60 day challenge and really getting to better understand the postures and the Yoga practice. Love the hot room! "
- Rod Siqueira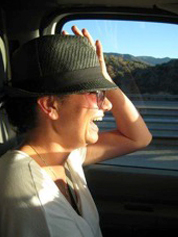 Bikram yoga has saved me! 18 months ago, when BYNB opened, I went from being a fair-weather Bikram yogi, to practicing between three and five times per week. I have completely fallen in love with this yoga. The stress of a fractured family, work pressure and my own emotional struggles have taken their toll, but each week I come back to my mat to escape, breathe and work deep into my physical and emotional well-being. For an hour and a half I get to exhale the negative things in my life, and work on building the physical strength to support me through any challenges I may face. My body has completely changed, my strength increased exponentially. Knee problems from gymnastics and skiing have gradually disappeared, and where there was once vulnerability, both physically and mentally, there is now strength, flexibility and capability.
Make the time for balance, focus and hard work. Make room in your life to improve your physical and mental health. Bikram yoga is one of the best investments I have ever made in myself.
- Philippa Kearney


I have been practicing Bikram Yoga for about 6 years in total.The benefits I receive are endless!
Physically - I am far more toned than I used to be. Also my core strength has increased significantly, as has my flexibility and stamina. I also notice that I automatically stand and sit with a straight spine now, rather than slumping. My complexion has improved; with all that sweating, if my skin has improved, I am sure my internal organs must have too - but do not know that. I did have a bone density test a few years ago, and was told that my bones are very healthy, especially since I do not eat animal meat, and am post-menopausal, so could have been a candidate for osteoporosis, but, thankfully am not.
Emotionally and spiritually - I notice that I have become a much calmer person - seem to be able to practise "grace under pressure" a lot easier these days! Also notice that my concentration levels have increased. My internal dialogue has quietened significantly.
All in all, Bikram Yoga has greatly improved the quality of my daily life - physically, emotionally and spiritually. I intend to continue practicing Bikram Yoga - forever! When I get old, I may get wrinkly, but will do all I can to remain agile!
- Jan Lancey




I joined Bikram Yoga Northern Beaches last year, after moving from the Lower North Shore. Katie and Martin have created such a wonderful studio! So many great yoga teachers and students enjoy a beautiful environment that one can both see and feel!
In my mid-60's, I had a need for 3 distinct outcomes from taking up Bikram yoga...and consider myself fortunate to have Martin as my first instructor..but I will get to that later!
Firstly, as a hypertensive, I had a need to "chill" - advice from my doctor suggested taking up a health based recreational activity - in addition to the squash that I was playing. So the meditative aspects of Bikram yoga were immediately apparent and beneficial. At a time when I was going through significant personal issues, I found that I became much more balanced and calm in situations that had previously caused stress. 
Secondly, as an "ageing!" hypertensive, I had a very clear need to get the blood pressure down to a more reasonable level. Having been with the doctor today, I can advise that I am now a 120/80 regular. I would not like to record where I was previously.... and again, I consider that Bikram yoga has significantly contributed to this successful outcome.
Finally, I was nudging 90kg and that wasn't good, my ideal weight being in the 75kg-80kg. The physical workout that I get from Bikram yoga has played a huge part in getting me to a svelte 81kg as of today (btw - the term "svelte" is my words - not my partners!).
And then of course there is the "unexpected bonus" .as someone that considers (for example) that meditation should be done quickly.... I was fortunate that Martin was the instructor that introduced me to Bikram yoga and I find his style of leadership maintains my interest through (what I consider to be) a really tough, but worthwhile, workout!
- Bob Partington
I thoroughly enjoyed this Bikram challenge - the 'highs' and the 'lows'. Having recently completed a personal 30-day Bikram fund raiser for my brother-in-law, this challenge was very different. I've lost a lot of weight, my body has toned in a way that regular exercise never managed to do before, and I'm also finding that my daily life is more peaceful and on purpose. There were moments in the 3rd week when the challenge got tough, especially on my back and hamstrings, but with the continued support from Family, friends and the awesome teachers at the Northern Beaches, (a special thanks to the inspirational "70-year old" master yogi - Dave Reid) I continued to hold my focus to complete with grace and confidence. A BIG thank you to Martin and Katie for creating such an amazing community. I would recommend this challenge to anyone looking to make changes to their life in a positive and uplifting way.
- Gregory Parry
I just wanted to send through a thank you message to you and all the teachers at Bikram Yoga Northern Beaches. 365 days after my first class and I can say with 100% certainty that my life wouldn't be what it is today without this yoga. At the time of my first class life had just handed me, or rather slapped me, with some challenging cards and I cannot say I was dealing with them particularly well. Coming back after my first class was difficult as I questioned why I was returning, but I can now say I am eternally grateful to my past self that I went to another class, and another, and another. A year later and so much in my life has changed for the better thanks to this yoga.
Some days I still wish I could crawl into my own cave and never come out but instead I crawl into the heated room and face myself in the mirror. I can not say that without this practice I would be as happy and content with myself as I am now. Along with this, when I first started I could barely get my hands below my knees and now I can touch my forehead to my shins. Every class I prove to myself that I am strong and I can do more than I think I can and I owe this all to the teachers at Bikram Yoga Northern Beaches. Every single teacher, even if I've only had one class with them, has changed and helped my practice significantly. So with that thought, thank you so so much for this past year. Thank you for the laughs, the inspiration, and for being there for me on my best and my worst days. If one thing is for certain, I will be doing this yoga for the rest of my life. I can't wait for another year with you guys!
- Ellen Cregan
I have been practising Bikram yoga for 10 years, at first I was drawn to the yoga for fitness and the challenge of doing yoga in a hot room. Through the years I have really come to understand the holistic benefits, and feel so much healthier happier and calmer. It's really not how flexible you are, or how good your postures are, it's really about what is has bought to my life. I started off feeling overwhelmed by the heat, but through time, have come to a place in the room, that I refer to as " my yoga bliss bubble" which grounds me, like nothing else.

- Rosanna Buontempo
Bikram is empowering...Before I made appointment to see specialist because of ongoing lower back problems, I was recommended to try Bikram Yoga .This was 1.5 yrs. ago and what transpired has been a incredible journey in so many respects. The end result, with regular practice has enabled me to overcome not just the initial back problems but also a range of other health benefits. An obvious one been six months ago I noticed I had stopped using asthma controllers.
Life with Bikram is a happier and healthier one on so many levels. Big thanks to Martin, Katie and all the great crew at Northern Beaches Bikram!
- Kerry Bradley
Bikram Yoga compliments my triathlon training and has helped improve my racing performance and recovery. My breathing has improved exponentially in swimming and running. A stronger core and improved balance has helped my cycling & running. I've learned how to stay more focused and calm before and during events and find that my recovery between training sessions is faster because my muscles aren't so tight. Being a 48 yr old working mother of 3 I can only make a class once or twice a week; Bikram is the only training session I won't skip. Bikram teachers often say that the breath is the bridge between our mind and body. For me, Bikram yoga is the bridge between endurance triathlon and an injury free home life.
- Shelly Scholten
"I have always enjoyed keeping fit and prior to my introduction to Bikram yoga i did so via competitive sport and distance running. However, having reluctantly entered the hot room for the first time over 2.5 years ago, I have not looked back. As a result of regular practice I feel physically fitter and mentally stronger than at any other time of my life. Every class delivers its own unique challenge, with personal satisfaction flowing soon after each class is completed. In addition, BYNB is a quite brilliant studio, in my view the best around, as its teachers are of the highest standard, and its facilities are second to none. This combination ensures that the experience is always a positive one, and that students cant help but come back for more! I am delighted to recommend the studio and the yoga - it really does have the ability to affect positive change for all".
- Richard English